6mm vibration motor Z0610-TP
Category: 6mm Micro DC motor Publish Time: 2023-07-04 13:30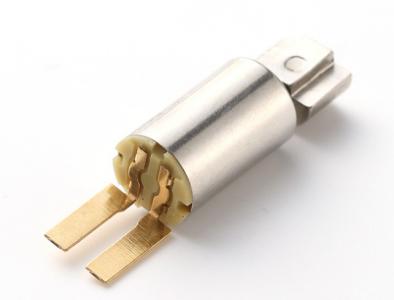 Spring vibration motor Z0610-TP Spring contact for easy assemble and widely used for Medical equipment: intelligent kit, Sphygmomano meter, Glucose meter,beauty pens, rated voltage:1.5V; no load current:7mA; no load speed:8500r/min; stall current:0.046A; stall torque:0.64gf.cm。
Spring vibration motor Z0610-TP
Spring contact,easy for assemble.
Vibration motor

Z0610-TP drawing:
vibration motor Z0610-TP widely used for:
Medical equipment: intelligent kit, Sphygmomanometer, Glucose meter

Electric beauty products: beauty pens, electric facial cleaners, facial massagers, eye protectors

Electric toys: Model aircraft, Quadcopter, aircraft model, UAV

Vibrators: contact lens cleaning machines, electronic equipment vibrations, sex products, mobile phones and fields such as steering gear, precision instruments, robots, etc.
Vibrating Glocose meter motor characteristics:
rated voltage:1.5V;

no load current:7mA;

no load speed:8500r/min;

stall current:0.046A;

stall torque:0.64gf.cm
Accepting and providing customized micro dc motor consulting, design, and manufacturing services, we can offer suitable and high-quality DC micro motors for you.
Confidence comes from quality, and service highlights value. Dedicated to serving you!